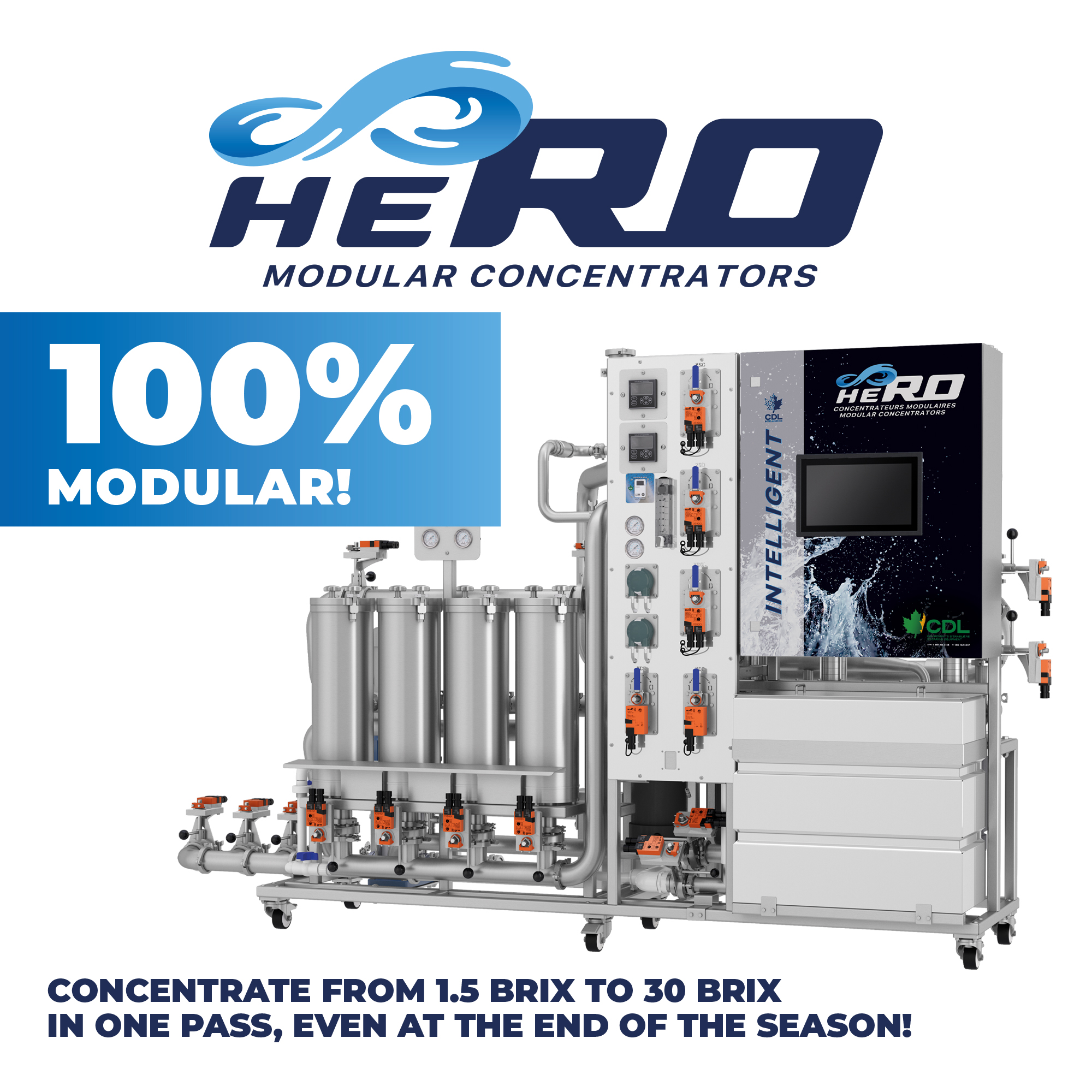 CDL IS THE ONLY ONE IN THE INDUSTRY TO ALLOW YOU TO CONFIGURE YOUR CONCENTRATOR THANKS TO ITS NEW 100% MODULAR FAMILY!
CHOOSE FROM OUR 6 MAIN UNITS AND OUR 24 RO POST CARTS AVAILABLE!
This flexibility in configuration will allow you to meet the current and future needs of your sugarbush while respecting your budget! Your concentrator will be scalable even when adding taps.
CONCENTRATE FROM 1.5 BRIX TO 30 BRIX IN ONE PASS, EVEN AT THE END OF THE SEASON!
Units available in manual or automated mode:
heRO-2T : 720 to 3600 GPH
heRO-3T : 1000 to 5400 GPH
heRO-4T : 1800 to 7200 GPH
Stainless steel pressure pumps (turbines)
Positive recirculation system that allows operation for several hours without loss of performance. This unique system extends the life of the membranes.
Posts: Very reliable maintenance-free submersible motors for over 15 years
High and low pressure protection
High temperature protection
heRO INTELLIGENT VS REMOTE CONTROL
If your model is Intelligent, you will automate and manage 100% remotely all the features of your concentrator according to the defined parameters. If your model is Manual, you can add control modules that allow you to perform certain functions remotely. However, this does not make it intelligent; you will therefore have to perform the actions one after the other through the interface. This will require supervision.
2.0 CDL RO POST CART
24 RO POST CARTS CONFIGURATIONS AVAILABLE. Click here for details.
Ask for a quote ›
Ask for a quote or an appointment
Categories of related products