Step by step towards the smart sugarbush
Today, no matter what our lifestyle, we are short on time! The CDL 4.0 vision, progressing towards 5.0, allows all maple syrup production enthusiasts to realize their passion while preserving the quality of life that has become so dear to us. At CDL, this is what we had in mind when we started developing CDL Intelligence a few years ago. If this 4.0 vision seems impossible to achieve in your sugarbush, know that you can implement it gradually starting now. It's much simpler than you think, since "keeping it simple," whether you're tech-savvy or not, was a priority objective for our development team. The ultimate goal of 4.0 is to have complete synergy between all automated syrup production steps. Over time, we have connected more and more systems and eventually, we will be able to say that the smart sugarbush is almost entirely autonomous! To achieve this, you don't need to connect everything at once. So let's take a step-by-step look at what CDL Intelligence means for your service.
Basically, in the forest, our objective was to reduce the time needed for analysis and intervention. A connected forest makes it easier to manage priorities and teams. Geolocation (GPS) and continuous communication greatly help to make this management efficient. Information such as vacuum level reading data, the weather station, and freeze reports provide increased support for your workforce management and decision-making. The data from the vacuum sensors installed in the sugarbush helps to avoid frequent trips that drain your energy by allowing you to intervene quickly at the right place. Working time is reduced thanks to remote monitoring. Productivity is maximized since leaks are detected much more rapidly. More water and less work time makes for a profitable combination!
In a few years, all our sugar bushes will be smart. This will become the way things are done. One will wonder with amazement how we managed 'before'!
— Serge Tanguay, Sales Director – Canada
The smart pumping station is fully automated and autonomous. You control it remotely. You can see the incoming water volume level and its Brix. If you have added camera surveillance, you won't miss anything, without having to go anywhere. The management of the pumps according to the vacuum and the temperature is also a controlled parameter.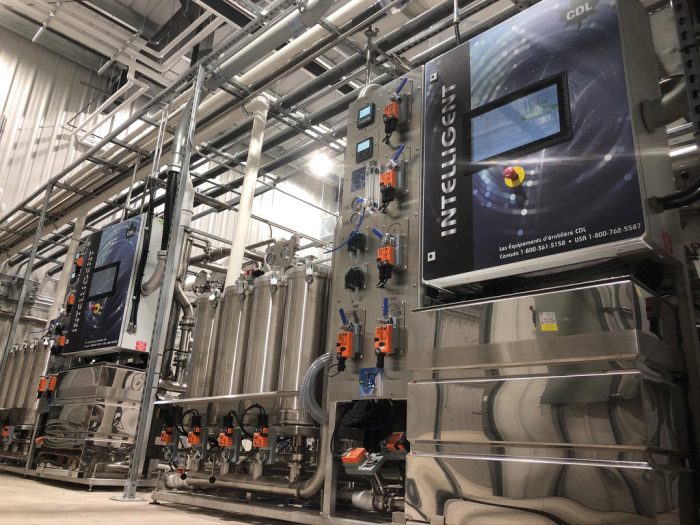 Autonomy and simplicity prevail again in the tank as well as in the osmosis system. Since all your data is collected, you have control over the management of levels, valves, and the tank's remote washing. As for osmosis, it really couldn't be simpler, everything is done by itself once the programming is set up. During evaporation, you control the boiling parameters according to the season's progress, giving you great flexibility. Managing the heat, controlling the Brix levels and, as a bonus, automated washing, all promise to save time. Of course, in the 4.0 environment, filtration is also automated. When bottling, the data reading will provide support for the system's autonomy, in addition to facilitating the management of inventories, their mass, and their temperature.
Our vision of the future is a happy maple syrup producer who is in control of their entire production process, from tree to bottle, with a smart system that fits in the palm of their hand. The improved productivity ensures a satisfactory return on investment and CDL, as a good business partner, has supported them every step of the way to ensure success.
— Serge Tanguay, Sales Director – Canada
For now, CDL offers you intelligence up to the filtration step. Subsequent steps will follow to complete the full cycle of the smart sugarbush. If you're worried that something is not quite right and that you will find yourself at a loss when faced with this cutting-edge technology, be sure to take CDL's after-sales service into account. At CDL, maple syrup producers are the ones who think about innovation. So, the after-sales service is a must that comes with the equipment!