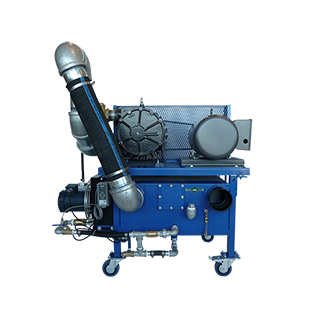 Vacuum pumps
Conversion system for vane pumps
Conversion system for vane pumps allows to keep pump head cool and will then increase your regular vacuum (Max 21″Hg) up to 26″ Hg. The thermostatic radiator cools down the oil and prevents cast iron motor head from expansion (material dilation due to heat) and losing performance. Conversion system for vane pumps increases pound per tap gain by 5% more sap per gained Hg. Ex: 5000 taps sugarhouse with an average of 3lb/tap at 21 Hg could obtain 3.75lb/tap at 26Hg.
Advantages
Eliminates overheating of the DeLaval or Airablo pumps.
Very compact.
Allows to pump up to 25″ Hg.
High performance radiator to keep the oil cooler.
Integrated thermostat optimizes performance.
Ask for a quote ›
663470P

Oil cooling system 3 HP à 5 HP

663470

Oil cooling system 7,5 HP to 10 HP
Categories of related products