LARGE-SCALE PROJECT FULLY EQUIPPED BY CDL: THE STORY OF BLACK BIRD IN ONTARIO
Picture a stunning valley in Ontario, where the Harmony River flows and 60,000 acres of forest stretch as far as the eye can see! Some 2,500 acres of that forest, in Harmony Bay, 40 kilometres north of Sault Ste. Marie, was chosen as the birthplace of Black Bird Management Ltd.'s maple sugaring division.
Since 1990, the Black Bird Management Ltd. team has been managing this expansive forest through selective logging. The owners and management team were looking to diversify their operations, and after analyzing several options, they decided that maple syrup production was the most in line with their activities.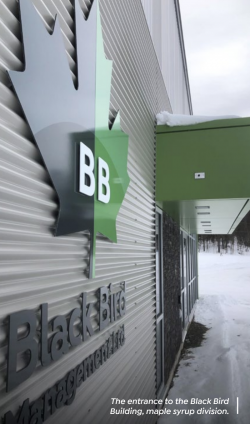 It all began in 2017. That year, they attended several conferences and conventions to perfect their knowledge and, above all, find the best maple sugaring equipment manufacturer with whom to begin a lasting business relationship and quickly bring their project to life. CDL Maple Sugaring Equipment seemed like the perfect choice. Patrick Rosebrook, CEO of Black Bird, explained, "After talking to other large-scale maple syrup producers, we concluded that CDL had the knowledge to help us carry out our project, the ability to supply us with the equipment we needed, and the contact with other industrial maple syrup producers who could inspire us."
Planning began in 2018. CDL worked full-time with the Black Bird team to design the tubing network: a 95% underground air/water system, made possible by gravity and the unique topography of the site. CDL also helped supplying the equipment needed to produce maple syrup inside the Black Bird building, which was scheduled for construction the following year. In early summer 2019, while the ground was being broken on the new building, 80,000 taps were being installed in the bush thanks to CDL's training.
When you talk to someone often, like we do with the experts at CDL, it's easy to become close.
CDL also collaborated to the interior design of the 20,000-square-foot building as well as the equipment setup. Ensuring that certain tools were customized. Samuel Beaulé, Carl Plante's successor as CDL project manager, mentioned, "To meet unique needs like Black Bird's, our research and development team had to build the largest evaporator ever made by CDL, twice over!"
CDL also offered on-site training to Clyde Bridge, manager of the maple sugaring division at Black Bird, at my own industrial sugar bush in Gaspé. That training helped him learn the basics of the job, which came in handy since he manages most of the daily work during the syrup season. Patrick pointed out, "We were novices. Even though we had experience in forestry, we really didn't have any in maple sugaring." Patrick and Clyde work in tandem to manage the operations of the 10-employee team: Patrick deals with forest management and Clyde with the maple sugaring division.
After a successful first syrup season in 2020, the team is adding some 20,000 taps to total over 100,000 taps, an important milestone for the project's profitability.
Since the project will continue to unfold in three phases over the next few years, all installations in the bush will now be managed independently by the Black Bird team. However, Samuel and the CDL team will be just a phone call away to help them acquire equipment for the next phases and provide technical support during the season. Samuel explained, "We've developed a great business relationship, but also a friendship.
The three of us are producers—we experience similar things in our daily lives." Patrick added, "When you talk to someone often, like we do with the experts at CDL, it's easy to become close. We could even call in the middle of the night, and we know someone would answer!"
For people with little experience, we're really happy about our first two good seasons. We owe it all to the quality of CDL's products and service. 
With his 15 years of experience at CDL, Samuel remains the first point of contact for Patrick and Clyde, and refers them to his colleagues if need be. Samuel says, "I know who to redirect them to internally to help them get what they need as quickly as possible. I can't take all the credit, though, for the Black Bird team's satisfaction. It's really a team effort!"
Patrick explained, "Without the support of CDL, this project would have been almost impossible. It was very important to have CDL on our side from the beginning. For people with little experience, we're really happy about our first two good seasons. We owe it all to the quality of CDL's products and service.
We hope that this success story will inspire you to rely on the support of CDL, no matter the size of your project. Contact our team of sales representatives for personalized service!
BLACK BIRD PROJECT IN NUMBERS
Total project: 250,000 taps
1 single pump station with 18 vacuum pumps and 8 variable speed extractors
Intelligent reverse osmosis system that can concentrate 18,000 GPH from 2 to 30 Brix in a single pass
Two Master evaporators, the largest propane evaporators manufactured by CDL (each evaporator can boil 18 barrels per hour at 30 Brix and is equipped with automated washing)
20-inch presses with calibration tanks and stainless steel plumbing