CDL'S SAP DIVISION BLOOMS ON EUROPEAN SOIL
CDL has been diversifying for several years now by adapting its equipment to harvest sap for birches and other trees. This has led to great potential in Europe, where birch sap (also called "birch water") has been a popular drink since the 12th century.
The growth of CDL and its European sap division began with one man, David Clément.
DAVID CLÉMENT: FROM CUSTOMER TO CDL SALES REPRESENTATIVE Flash back to the spring of 2010, in the French Pyrenees. David Clément was harvesting his first batch of birch sap in small cans, trekking through the mountains with his trusty quad. Every year, he extended his season a little more; he spent one month, then two months, then three doing the "birch run," as he called it. He started looking online for ways to improve his yield and performance, which is how he came across the "Canadian method" of harvesting maple sap. He got in touch with CDL to learn more and started running tubing. In 2013–2014, he began getting set up with CDL products. Martin Chabot, manager of the sap division, recalls: "The business relationship grew season after season. It became a true partnership, so we quickly agreed with David that he could become our first CDL sales representative in Europe." David adds: "CDL always has something new to offer, and the French Pyrenees region, where my company is located, is a great testing ground for their products. It's also a great location to develop the sap division in Europe."
After seeing a report that birch sap was being harvested at the Château de Chambord, David Clément reached out to the site's director of hunting and forestry, Etienne Guillaumat, to recommend installation techniques. At the time, the birch sap was being harvested by hand using small cans hung on each tree, the way David Clément had been doing a few years earlier. Shortly after their phone call in March 2020, the two men planned a meeting in May at the Château de Chambord, which was completely closed to visitors at the time due to the pandemic.
"We quickly agreed that CDL's equipment was the best solution for them—it was much simpler for their installers. So we got everything lined up quite fast and started installing in late fall and early winter of that year, just before Christmas," David recalls. The Chambord team, David Clément, and CDL's experts all worked together to develop an installation plan for the tubing. The goal was to make the network as efficient as possible for harvesting and allow for easy repairs during the season. Another issue to consider: the harvesting area had to be protected so it wouldn't interfere with the estate's large animal population and its other activities, like hunting. The pumping station was completed in January 2021, allowing the Château de Chambord team to begin its first harvest with CDL tubing and equipment the following spring.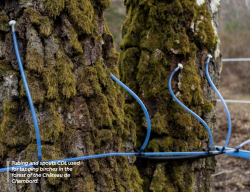 BIRCH SAP FROM CHAMBORD: A MAJOR ENHANCEMENT PROJECT
Harvesting and marketing birch sap was seen as an ideal way to diversify sources of revenue for the château, a French-Renaissancestyle building that has belonged to the French state since 1930. The château grounds, which form a 5,440-hectare park, are home to a large number of birch trees, making this big project even more appealing to the Chambord team.
What's more, it aligns directly with the goals of the château's hunting and forestry department, namely to conserve the natural heritage of the Château de Chambord estate. Etienne Guillaumat, the department's head, explains: "Our team was very excited about this birch sap project. It's a way to protect and support trees like birch, which tend to be overlooked by foresters even though they're pioneer species that grow much more easily than more popular species like oak. We quickly chose CDL, a world leader in maple sap harvesting, to install Chambord's first pumping station because birch sap is harvested much the same way as maple sap.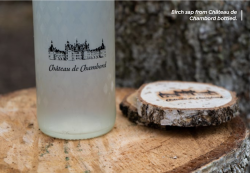 This innovative way of promoting the Sologne region—and Chambord in particular—with a natural, authentic and very healthy drink has proven highly popular. It's sought after by gourmet restaurateurs from across France and visitors can purchase their own birch sap bottles within the château's walls. After having harvested 13,000 litres of birch sap during the 2021 season, the Chambord team is now working on creating birch-sap-based products, including a line of cosmetics.
FAMILLE MICHAUD, OFFICIAL DISTRIBUTOR OF CDL PRODUCTS
Another exciting breakthrough for CDL's European expansion: Famille Michaud Apiculteurs is now the official distributor of CDL products and equipment. This world-renowned family business, headed by a fourth generation of entrepreneurs, is recognized as the European leader of natural sweeteners thanks to its strong technological background and more than 100 years of experience. Its history aligns fully with CDL's values, making it an ideal partner for the development of our sap division.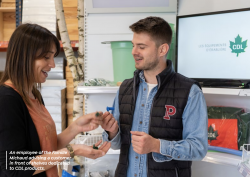 So where does CDL go from here? For one, it intends to continue expanding into Eastern Europe, particularly Russia. CDL has recently added a sales representative for the region, so it's off to a great start!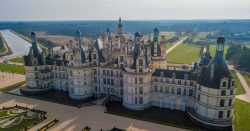 ABOUT THE CHÂTEAU DE CHAMBORD, A JEWEL OF THE RENAISSANCE
The immense, majestic Château de Chambord sits within 5,440 hectares of wooded estate. It was built over 500 years ago by King Francis I, who financed Jacques Cartier's expeditions to America. "In some ways, history has come full circle now that the Quebecers have returned, bringing CDL equipment to the Château de Chambord," remarks David Clément.
The Château de Chambord is recognized worldwide as a lasting symbol of the French Renaissance. It has been on UNESCO's World Heritage List since 1981.