Back to the first season of our New Nano RO !
Just before the last season, CDL had introduced two new Reverse Osmosis Systems for the enthusiastic hobby maple producers.
These small units are economical and simple to use. Highly efficient and consume very little electric power and are operated on 110 volts power or a small power generator.
The technology allows energy and evaporation time savings making maple syrup home production most enjoyable, as evidenced by Mr. Andrew Simms-Jacques, who bought it!
Two models are available: the first one is equipped with 2 X 600 gpd membranes (81008) and the second one includes 3 X 600 gpd membranes with recirculation pump (81013R).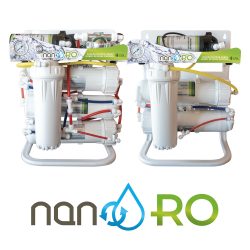 Two membrane models offered are without a recirculation pump and is dedicated to hobby activity up to 75 trees. This tiny unit will remove from sap 6 to 8 gallons per hour of water allowing concentration between 4 to 5 Brix. Larger capacity 3 membrane model is equipped with a special circulation pump that increases performance and allows higher process capacity capacity. This Nano RO will remove 10 to 13 gallons per hour from sap, taking sugar concentration up to 5 or 6 Brix with a better-sustained performance through the entire duration of the process.
Notice to interested parties! The Nano RO's can also be used for birch sap concentration.
These unique little machines are now offered for early bird purchase and will be ready for shipment early fall 2021. The product has known great success in its first year, to assure availability, CDL recommends early pre-delivery purchases in all our local stores, with our CDL sales representatives or on our online store.
CUSTOMER TESTIMONIAL : ANDREW SIMMS-JACQUES [70 taps, Saint-Malachie, Quebec]
"Artisanal maple syrup production must remain a pleasurable activity. This is exactly what the 3 membrane Nano RO has done for me this year. Thanks to the well-detailed instruction manual and the good advice from the CDL team. I quickly became familiar with this equipment and noticed the amazing efficiency of this reverse osmosis. As per my estimate, with this past season of large volume of low sugar sap, my Nano RO has cut nearly in half the time required to produce our maple syrup. I did not have to boil all day long and late evenings. This affordable equipment allowed me to save additional expenses such as the purchase of a larger evaporator and the need to consume more firewood. As a bonus, it contributes to the better enjoyment of sharing precious time with my family. I strongly recommend it."